first off, new years resolutions:
lose weight quickly and consistently until i reach my goal weight of 105 (duh) (key words: quickly and consistently)
start jogging or walking on the treadmill every day
start doing nightly crunches again (at least 100/night)
NOT fuck things up with drew
party more :)
survive my first semester of college
toke with all the friends i keep saying i need to toke with
try shrooms
get my first tattoo and first facial piercing
become that mysterious sexy waif image of myself i've always wanted to be
what are your resolutions?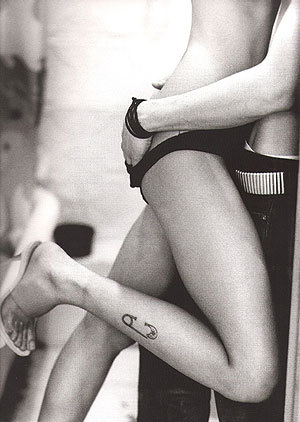 complete topic switch, but my head's a swirl of emotions right now. to be blunt, me and drew have been sexting for over 6 hours. it started out just "oh i'm in a make out mood" type shit. then it progressed. and kept going and going until he was suggesting doing things that we haven't even done yet. i expected him to talk about third base, cuz that's the next step. but he wants to go further than that... when he said he wanted to eat me out, i was surprised, excited, and slightly stressed... cuz if he does that to me, i feel like i'm expected to return the favor. and i've never done that before, and honestly the idea of a blowjob grosses me out. as much as i trust him and honestly i already think i could lose my virginity to him later on, this scares the hell out of me. because i have no idea what i'm doing. i'm a newb, and i don't want to disappoint. i don't even know how to act around a boyfriend in general, how am i supposed to figure out all the sex stuff? i'm two years older, but i'm the naive one, and it's kinda scary to be in that situation. i'm so used to being experienced, confident.
i mean, fuck, we sent eachother pictures. i can't help that i'm a horny individual and let my hormones take over very easily. maybe in the moment i'll forget all my worries. but until then?
and is this too fast? tomorrow will be the 3 week mark... i just don't want to fuck things up. i've just fallen for him so hard and so fast, and part of me feels ready to go further. part of me just knows that there's a very good chance that this is it, the real deal, the one.
decisions, decisions... a nice liquid fast will surely clear my head.
speaking of liquids, i've heard a new trick that i'm going to try. if you take your current weight in pounds, divide it by 2, and drink that many ounces of water a day, it helps you lose hella weight. alex said that someone who she knows who is a sports therapist told her about it, and she's been doing it, and it works. for example: i weigh about 138lbs. so i would drink 69oz of water a day. i'm going to start this as soon as i find a water bottle that tells me how many ounces is in it (i don't buy bottled water, i need to go buy a new water bottle, i'm eco friendly).
sorry this post was so attention deficit... just one of those days.
stay strong, think thin, live ana
xoxoNikkioxox