dan asked if he could come over early before my birthday party, and i said sure. when he said he was close, i ran downstairs to spray on my perfume that he loves so much. then before i knew it he was in my house. in my room. sitting on my bed. he gave me my birthday present and i opened it, and then we were just sitting there. all of a sudden he pulled out a small bag of hershey's kisses and asked, "can i kiss you?"
so we kissed.
as the night went on we were all having a good time. at one point i took dan's phone and shoes and hid them throughout the basement. me, dan and another guy played the twizzler game (of course!), and at one point the other guy was talking to someone else and dan and i just had our own little two player round...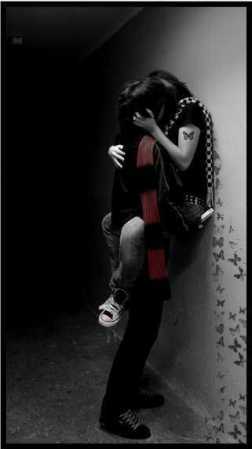 we left my room to "go find his phone." after i handed it to him, i got a text from a friend. "guess who i'm with? a guy who likes you!" she was talking about the new guy. dan leaned over and we were forehead to forehead. he read it and asked who it was. i lied and said, "i don't know... is there a reason you're so close to my face?" he said, "yeah." i asked "what?" and he kissed me again. we started making out until we heard my grandpa coming down the stairs. we went back in my room.
later we left again to "find his shoes." he was holding them in his hands when we started making out again. i bit his lip and he went nuts. took the shoes from his hands and threw them on the ground while we were kissing and he pulled me tighter. it was intense. it was amazing. incredible. he had his hand on my ass... then his mom showed up. we were walking back to my room, but i grabbed his arm and spun him around for one last kiss.
after he left, he texted me saying, "so you like bein shut up ;)"
oh dan... you can shut me up anytime ;)
i'm still torn between him and the new guy... different friends tell me different things about dan. some say he's a player, some say he's just a flirt, some say he seems like a great guy and we would make a good couple. i haven't heard anything bad about the new guy... but alex and her bf are the only ones who know him that well; they say he's a great guy.
decisions, decisions... i don't know what to do.
stay strong, think thin, live ana
xoxoNikkioxox