THE URGE
i think something's wrong
every day feels so long
then looking back, i can't remember a think
these latest wounds are sore
and then i close the bedroom door
i take off the mask
i fall apart and
chorus: i feel the urge again
lost the courage to live
it's easier to leave
it's every single night
when i turn off the lights
i'm left alone with my thoughts
and i feel
the urge
i don't think i'm carzy
i think i just got broken
so damaged that, i can't be a normal human being
haven't eaten in days
don't care that i'm wasting away
i look in the mirror
and i am ashamed so
CHORUS
no one sees the pain
written on my face
well maybe they'd see the pain
if it was written on a grave
if you live by the sword
you die by the sword
CHORUS
CAN I CAVE INTO THE URGE?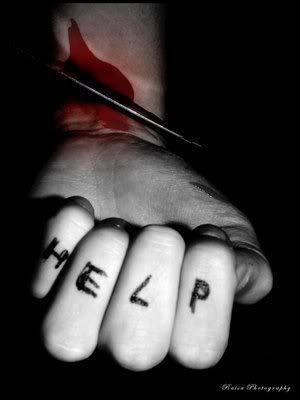 NO ONE CARES
some days i just need touch
when everything's too much
a physical tether to this world
could mean life or death for this girl
some nights i want to die
instead i lay there and cry
these voices are returning
they teach me and i am learning
chorus: just take the knife and draw your pain
she's never gonna see your sin again
you can throw it all away
AND NO ONE WOULD CARE ABOUT YOU
press the magic button and cleanse yourself
flush your sins all away to hell
let the acid eat your skin
UNTIL SOMEONE CARES ABOUT YOU
i feel fucking crazy
it's like my own mind hates me
i write the truth all over the mirror
but i'm still consumed by this fear
i wish that i could hate
get angry so it's easier to break away
blame someone else besides me
and feel like i'm worth something (NO!)
CHORUS
why am i the only one who hears the screaming?
tell me it's a nightmare, i'm just dreaming
you don't deserve to sleep
YOU DON'T DESERVE TO BREATHE!
CHORUS
chorus 2: dig a little deeper to end it all
don't bother running away, you'll only fall
drag yourself into her room
BUT SHE DOESN'T CARE ABOUT YOU
do it slow, make the world watch you die
show them all how broken you are inside
if they see you waste away
SOMEBODY MIGHT CARE ABOUT YOU
CUZ NOBODY CARES-----
nobody cares about you
ILL
do you see me
reaching out?
eyes scarred
heart filled with doubt
i'm shaking
i'm cold
the voices talk to me
i do as i am told
chorus:
i see it
the light behind the hill
i just have to get better cuz right now
i am ill
these scars aren't hidden
anymore
they glisten in the moonlight
by the lakeshore
it'd be so easy
to dive right in
sink to the bottom
breathe in
CHORUS
i don't
want to die
but you don't know
what it's like
to feel
so alone
i know you don't care anymore
just go
you're just a black and white rerun
you put the bullet into this gun
every tear falls and leaves the stain of you
but now someone else's light is inside of you
i see it
can't get there
i'm too ill
i see it
can't get there
you left me ill